Developing a Successful Team Building Philosophy
As coach of Arlington High School's girl soccer team, Andrea Scott has developed a tried-and-true team building philosophy, stemming from the years she spent as a player there. Through 14 years of consistent success, coach Scott's Lady Colts continue to make regular appearances in the playoffs.

However, coach Scott doesn't actively track her wins and losses.

Instead, coach Scott focuses on the intangibles, things like the relationships she builds, the lessons her athletes learn, and being a positive influence. Below, coach Scott reflects on these steps and more, and how they've contributed to her program's sustained success.
In her own words, coach Scott has never made win/loss records the focus of her team building philosophy. In fact, they aren't the focus of anything in her teams.


"I have no idea how many wins and or losses I have as a coach. But what I do know is we've been to the playoffs the last eleven years. We've been to regionals [for] two years and we've had 99% of our girls go to college straight from high school."


To coach Scott, if she were to fixate on wins, that would take away from the team. For her, building a program where athletes become good people and give back to their communities is a much more worthwhile effort.


"I want my players to know what hard work is and that it matters even when no one else is looking. But I also want them to take life a little bit lightheartedly."
Be Positive and Empathetic
As her career developed, coach Scott learned to be more open and honest with her teams, instead of being an angrier, colder coach. "It's important for them to see you be vulnerable because then they trust you and respect you if you give that back to them," coach Scott says.

"I just want to be able to teach kids to care for someone else more than themselves. My philosophy has changed over the years as I've gotten older. Now I really think that I may be one of the only positive things that these kids see. So we really try to be empathetic and caring but we still have high expectations. We're not as rough around the edges, I guess."

At Leading Edge, we are actively trying to foster a community of leaders that approach their jobs the same way coach Scott does. If you want to join our community, subscribe to our newsletter, The Edge, and get more stories and conversations like this delivered to your inbox.
As coach Scott puts it, "Yes, winning is really fun, but the relationships you build? Irreplaceable." This belief comes up often when talking about the Lady Colts' team building philosophy, which is by design. The relationships she builds with her students is coach Scott's favorite part of her job.

"One of my favorite moments and one of the most precious treasures that I've gotten from a student is a Guatemalan national team jersey. It came from a kid who has dual citizenship for the U.S. and Guatemala."

The student committed to a Division 1 school as a junior, but lost her offer at the end of her senior year due to test scores.

"She was destroyed. But then she found out that a junior college was going to let her go play and that opened up a million doors for her. She ended up representing Guatemala and played against the U.S. She got to play against Alex Morgan and Carli Lloyd. And when she came back from Guatemala she gave me her jersey."

Reflecting on this moment, coach Scott says, "Something I've heard before is that it takes three strong adults in a child's life to make them successful. You never know if you're going to be that for a kid. As a coach, why pass up an opportunity to be that for someone?"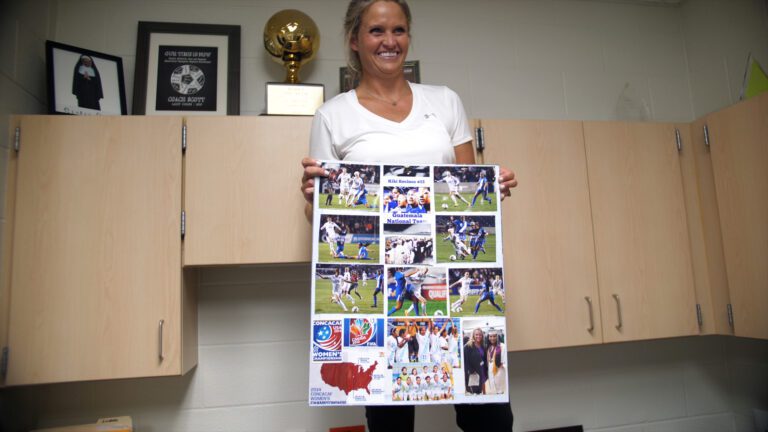 Any leader can attest to how many long days it takes to get things running right, and coach Scott knows and recognizes this. "During the season I see these kids more than their parents do. And I see these girls more than I see my own girls at home," she states.

"The greatest challenge for me at this point in my life is balancing my personal life with work. Being a mom and a wife and a daughter and then adding my coaching on top of that can be challenging. As hard as that might be, when my daughters walk in and see twenty-two sisters, that's very rewarding."
While her team building philosophy may not focus on it, you might like to know that coach Scott and her Lady Colts went 16-8-1 and made it to the second round of the 2022 UIL girls soccer playoffs.

However, having one of her players be named the 2022 District 8-6A MVP and making the University of North Texas' Soccer Team may bring a proud smile to her face.
Share this article with other coaches and leaders on social media, and help grow our community of leaders.